The Evolve 46 OC: Occasion in mint condition!
Rave reviews in the international water sports media and nominations in 2016 for Power Boat of the Year at Boot Düsseldorf and Motorboat of the Year at HISWA. Ever since its launch in 2015, the Evolve 46 OC has been a true eye-catcher on exhibition floors and in magazines. And so, Gerard Fortuyn and his wife were extremely grateful to be the proud owners of the first Evolve 46 OC built by Super Lauwersmeer. Eight years later, with pain in their hearts, they bid farewell to their beloved "one-off" Linquenda.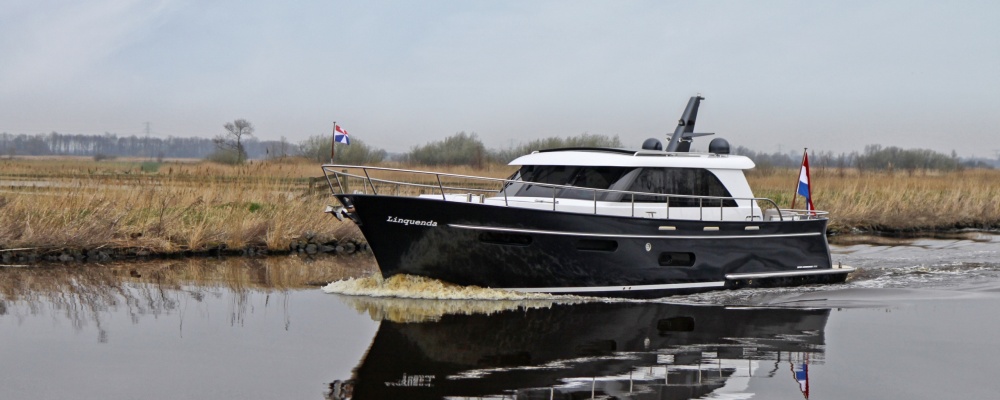 'Linquenda's new owner has much to be thankful for'
What if that one summer day in 2013 had not been sweltering hot? Would Super Lauwersmeer's first Evolve 46 OC have looked the same? We will never know the answer to that because that scorching day did happen. Coincidentally, at that very moment, Mr Fortuyn and his wife were on their way to Dokkum in their Vlet and stumbled upon Super Lauwersmeer's shipyard near the bridge.
Fortuitous encounter
'To pass the bridge, I had to dismantle the hood,' Fortuyn recalls. 'However, in the burning sun, I really wasn't in the mood for that. So we sailed to the wharf's harbour and moored there.' He stepped into the office of shipyard owners Bastiaan and Louis to pay his harbour fee. 'They were dumbfounded and explained that they were not a marina but a shipyard, haha.'
The trio got talking and soon found themselves back on board Fortuyn's yacht, followed by a tour of the shipyard. 'They first showed us the boathouses they were building. I couldn't believe my eyes and was immediately sold. You could enter with your car on one side and sail out on the other with your yacht! I bought one of those boathouses on the spot.'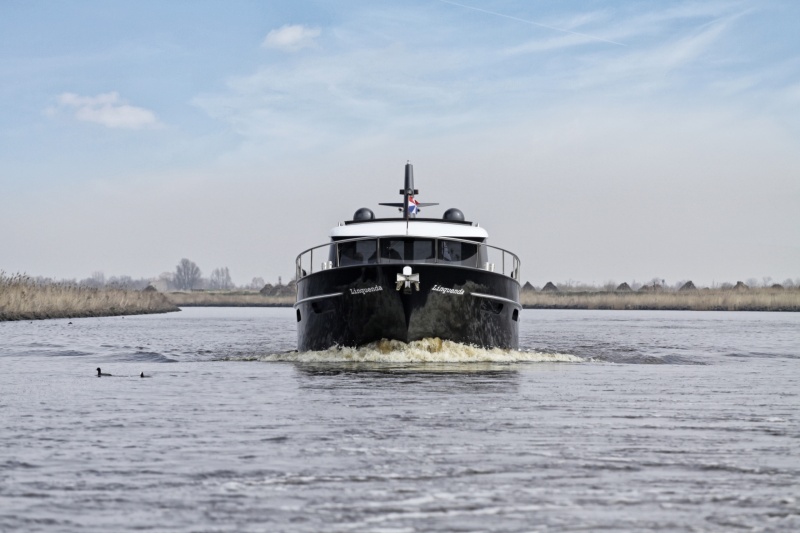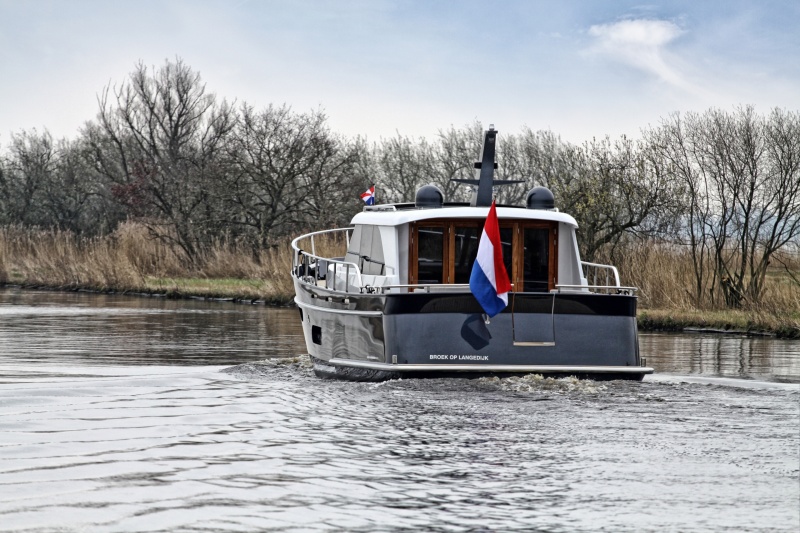 Curious about new-builds
In the construction halls, Fortuyn was once again impressed. 'The yachts, which were under construction there... Beautiful! Just like the craftsmanship that radiated from the yacht builders.' His curiosity about the possibilities Super Lauwersmeer offered regarding yacht building grew by the minute. 'When Bastiaan and Louis told me they constructed semi-custom-built yachts, I got even more excited.'
The prospect of having a yacht developed to his own specifications was something the successful entrepreneur discussed with his wife that evening. 'Moments before, I had once again been reading the newspaper under the tent with a torch on, to my annoyance. And my wife expressed that she missed the panoramic views on board. So the next morning, we strolled back into Bastiaan and Louis' office.'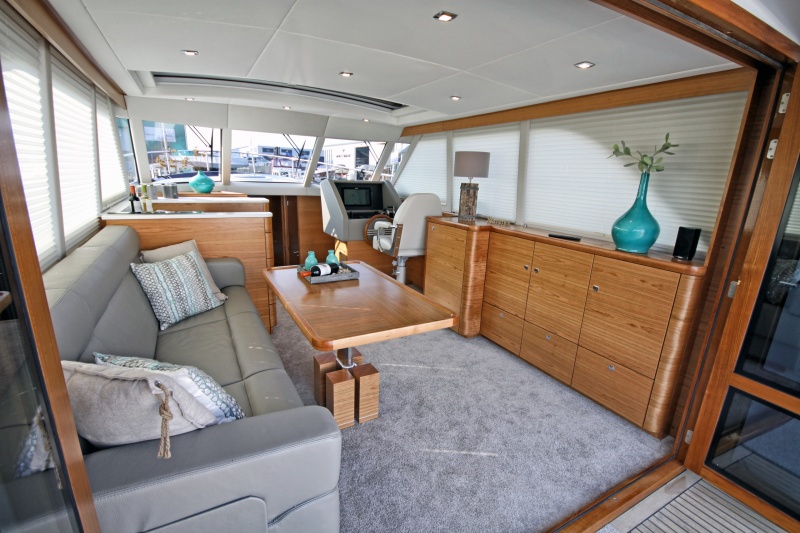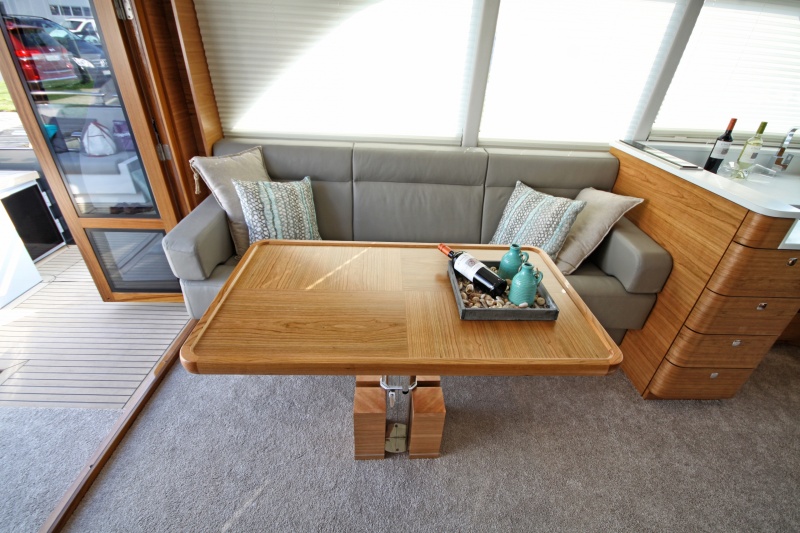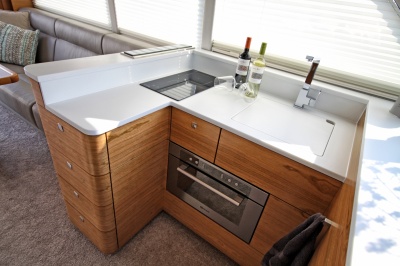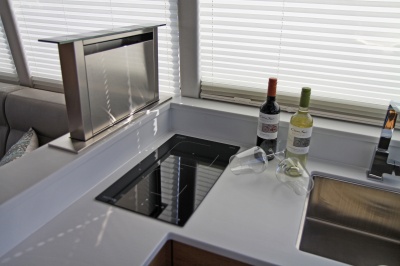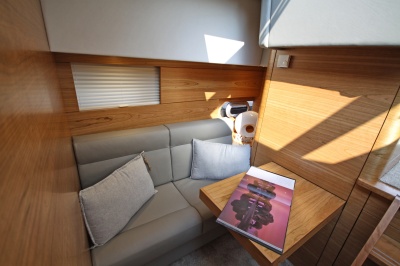 First sketches on the table
Soon the first sketches of Super Lauwersmeer's intended new Evolve model were on the table. 'An evolution of the classic designs of a cutter and cruiser. We had never seen anything like it before; quite the eye-catcher! As with the boat house earlier, we immediately indicated that we wanted to become the owners of the first Evolve 46 OC. Quick decision-making suits us. It has always been like that when we bought our cars and houses.'
Fortuyn and his wife were given the time and space to map out their personal wishes in the following period properly. Naturally, seating and cooking facilities with ample views and a partially covered and illuminated rear deck were at the top of the wish list. 'However, as avid Mercedes enthusiasts, we wanted to translate the perfection of this German car brand to the water in terms of interior, exterior and technology above all.'
Choosing the very best
From pasted windows to metallic paint and two stabilisers to navigation equipment. 'In consultation with Super Lauwersmeer, we chose the very best all around', he says. We were not building a yacht for the customer but with the customer. Super Lauwersmeer more than lived up to that mantra during the construction process. 'We were allowed to sit on the sofa in the saloon first on a trial basis, and before the kitchen was finally installed, we were able to use it on a trial basis.'
Whatever feedback Fortuyn and his wife gave, Super Lauwersmeer went with it. 'Every two weeks, we were at the yard to see the progress. Every visit was a celebration.' Construction took two years. Appreciation for all the time and energy both the customer and the yard put into the semi-custom-made Evolve 46 OC came soon after it was launched in 2015.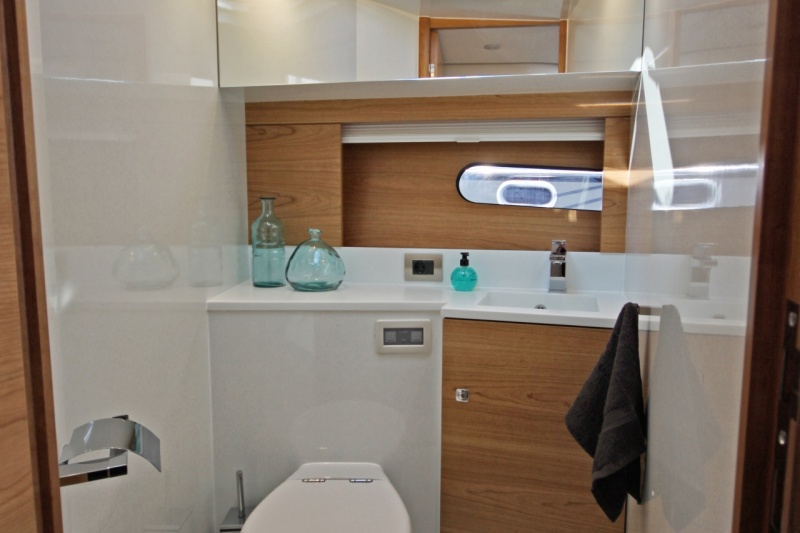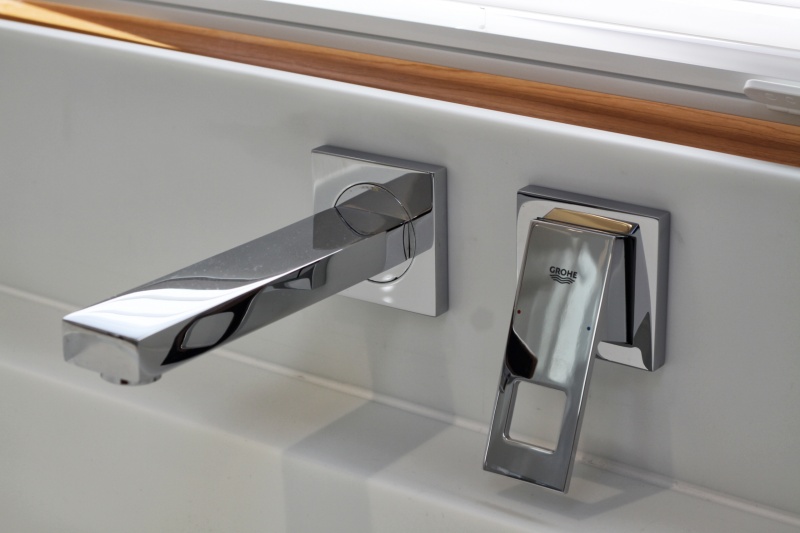 Nominations during Boot Düsseldorf and HISWA
'Domestic and foreign media brought rave test reports; both Boot Düsseldorf and the HISWA nominated our Evolve in 2016 as the yacht of the year, and everywhere we docked, we heard from fellow water sports enthusiasts how beautiful Linquenda was!' That the choice of name fell on a Biblical word is with good reason. 'Freely translated, it reflects that we should be grateful for everything we have been given in the short time we have been in the world,' he says.
And grateful Fortuyn and his wife certainly are for everything that has come their way. 'We built a successful business, which made us financially independent. But our true fortune is our two daughters, son and fantastic grandchildren.' As seventy-somethings, the years are starting to add up. To spend the remaining time with their (grand)children as much as possible, Linquenda is now going up for sale.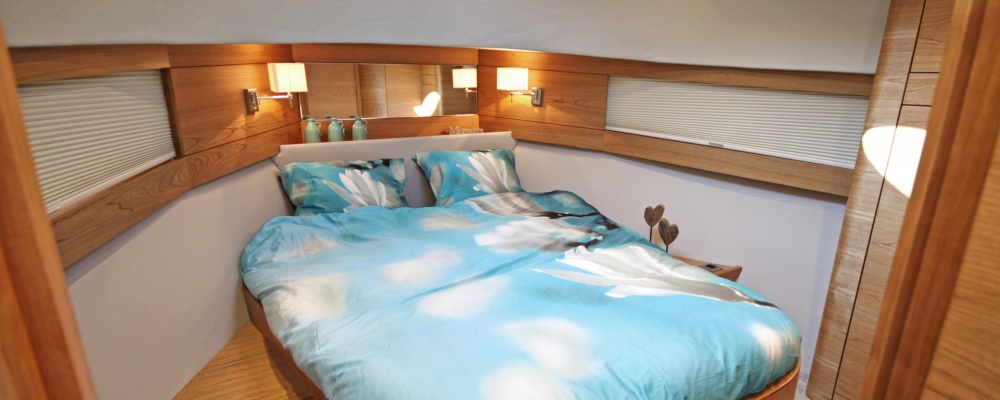 Discovering the Netherlands from the water
Our Evolve 46 OC let us discover the Netherlands from the water for eight years. From Maastricht to Sneek, we visited numerous places. But we no longer want to be away from home for weeks on end. Our kids' birthdays, graduation parties, and wedding anniversaries; experiencing that private happiness is more important to us. That is why we are also moving from Broek op Langedijk to Amersfoort, closer to our (grand)children.'
From villa to apartment and week-long boating trips to day trips on electric bikes – 'these decisions were made partly due to my wife becoming less able-bodied. We are entering a new phase of our lives, which will take some getting used to. Bidding farewell to Linquenda, we do with pain in our hearts; some tears were definitely shed. However, plenty remains in our lives to be grateful for.'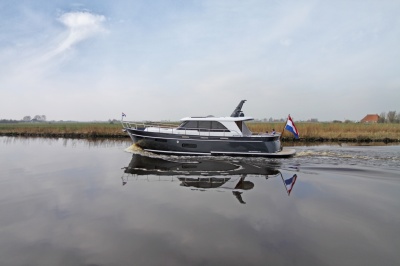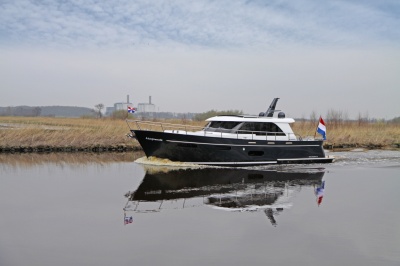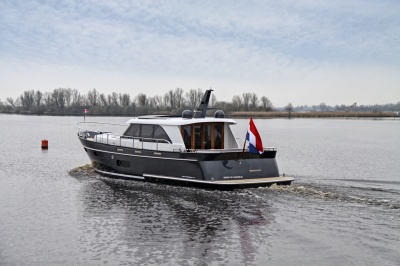 Ship in new-build condition
Fortuyn hopes to sense similar gratitude from Linquenda's new owner. 'We have been extremely cautious with Linquenda. Super Lauwersmeer serviced the yacht every winter, and the yacht spent eight years protected from weather conditions in our boathouse at the shipyard. For € 579,000, you will acquire a unique ship: the Linquenda. A yacht, moreover, that is also in new-build condition.'
Would you like to know more?
Are you interested in or would you like to know more about the Evolve 46 OC Linquenda and/or the boathouse that will become available? Please get in touch with our shipyard.