Motorboot tests top models of the Discovery line
"Modern craftsmanship", is the headline of the article in the September issue of Motorboot. The leading Dutch water sports magazine dedicated six pages to describing both of our top models and was clearly impressed.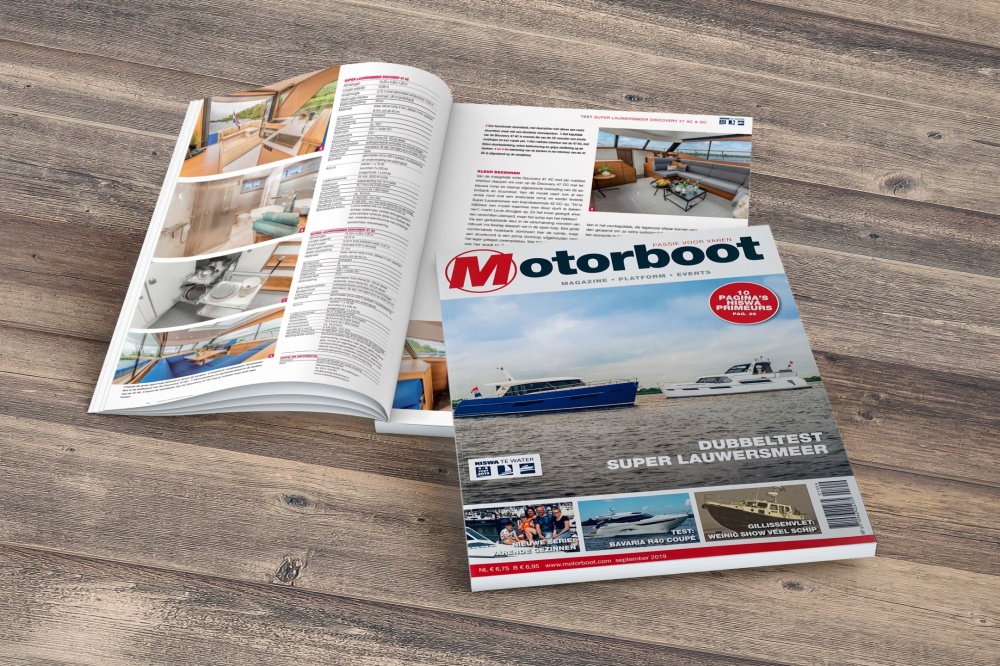 Motorboot journalist Yvonne Zwaan notes "the pronounced modern steel water displacers". She is very pleased with the way in which the AC was able to achieve the same sleek and exciting lines as the OC. This was indeed a challenge, Bastiaan and Louis Jousma confirm: "It is easier to turn a motor boat with an open cockpit into a ship with modern lines than a motor boat with a raised aft deck. With the Discovery 47 AC we have succeeded in making the design fit almost seamlessly with that of the OC variant," they state proudly.
Many innovations
"With the Discovery 47 AC and OC, Super Lauwersmeer demonstrates that it is continuously developing its ships," writes Yvonne. She refers to the many innovations that Super Lauwersmeer has implemented in recent years and the thoughtfulness that is evident in every ship. Examples include the fold-down windows of the windshield (AC) which lower the draught and the shallow stairs on board that are very pleasant to walk up instead of the usual climb.
Every Super Lauwersmeer is unique
The water sports journalist is equally pleased with the headroom of 2.07 meters, the generous aft deck (AC) and the light and spacious interior. "With regard to seating comfort: Super Lauwersmeer also pays close attention to this. Customers can sit on three different benches, varying in depth, height and reclining angle. In addition, the colour scheme and choice of materials for the interior are determined in close consultation with the customer," adds Yvonne. This makes every Super Lauwersmeer unique and tailormade for every owner. And that is exactly what the shipyard wants to achieve.