MotorBoot is very excited about "Spa on water"
The German water sports magazine MotorBoot recently published a praising test review in their May issue. 'Undoubtedly the eye-catcher in every harbour' is how the story opens. 'Not only due to the colour scheme; below deck, an extraordinary showstopper can also be found.' Journalist Claus D. Breitenfeld refers to the wellness onboard this Discovery 47 AC "Vida".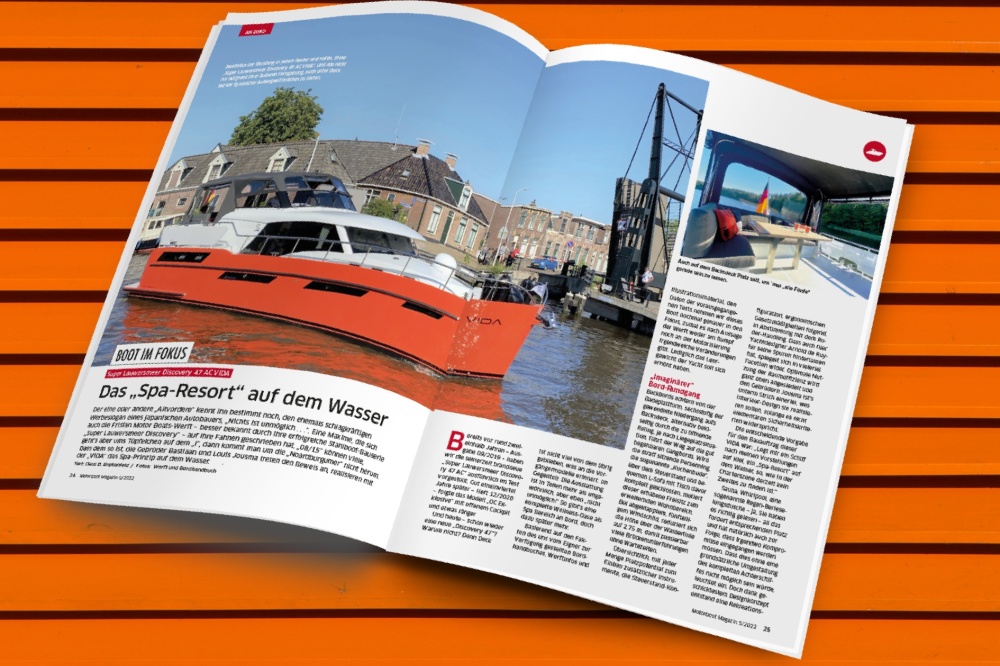 The customer who commissioned this unique Discovery had a clear brief: 'Build me a yacht that is a spa on water. A unique ship like no other in the yacht charter industry'. A request that the brothers Bastiaan and Louis Jousma, owners of Super Lauwersmeer, get very excited about. And so, the Discovery 47 AC "Vida" was launched in the summer of 2021 and added to the fleet of MYM Yachtcharter.

Unusual ideas have been realised
Breitenfeld writes full of praise about the boat, its build quality and sailing characteristics. 'Many can build a dime a dozen ship, but when it comes to the finishing touches, the Noardburgum shipyard is indispensable,' he writes in his review. 'Everything that is attainable and desired by the customer is important to Super Lauwersmeer. Unusual ideas have been realised on the "Vida", which demonstrates cooperation with a creative shipyard'.
Amazement of the editor
You can almost taste Breitenfeld's amazement when he writes about the facilities onboard: 'A sauna, whirlpool and rain shower - yes, you read that correctly - all this naturally requires a suitable space which means that compromises have to be made. Nothing of the sort. The entire aft cabin has remained unchanged, and no concessions have been made to the design drawn by Arnold de Ruyter. This is further proof that a practical aft cabin yacht does not have to come across as a "square block".'
Full test report
Curious about the full story and the MotorBoot journalist's conclusions? Download the full test report (in German) here.