Almost new Discovery 46 OC Longroof for sale
Marc and Iny daydreamed for decades about their ultimate yacht. With ample experience on rental yachts, they thoroughly considered interior and exterior requirements. In Super Lauwersmeer's Discovery 46 OC, the Belgian couple found the model closest to their perfect picture. It was from this foundation that, with the help of Bastiaan and Louis, they realised all their specific ideas. Barely two years after the launch, another dream provides a different future perspective. One in which too little time remains for their dream yacht, "Good Times".


Dream yacht or dream job?
To the Mediterranean temperatures of the Mediterranean Sea in summer and heading north to the Scandinavian seas, lakes and fjords in winter, Marc and Iny could already see themselves enjoying these dream voyages in the years to come. They would experience "Good Times" on their ultimate dream yacht, built to enjoy themselves during every season. However, for now, this will no longer be the case. As it happens, Marc was faced with an impossible choice: choose his dream job or dream yacht.
Pondering
Iny: 'We both came from banking backgrounds and met through work 20 years ago. Being Dutch, I left for Belgium for love, where we now live in Antwerp. But soon, we will move abroad, where Marc has the opportunity to take up a professional challenge for a few years.' It led to several weeks of weighing things up. The Mediterranean Sea and Scandinavia? Or the professional challenge? 'In the end, we opted for Marc's career.'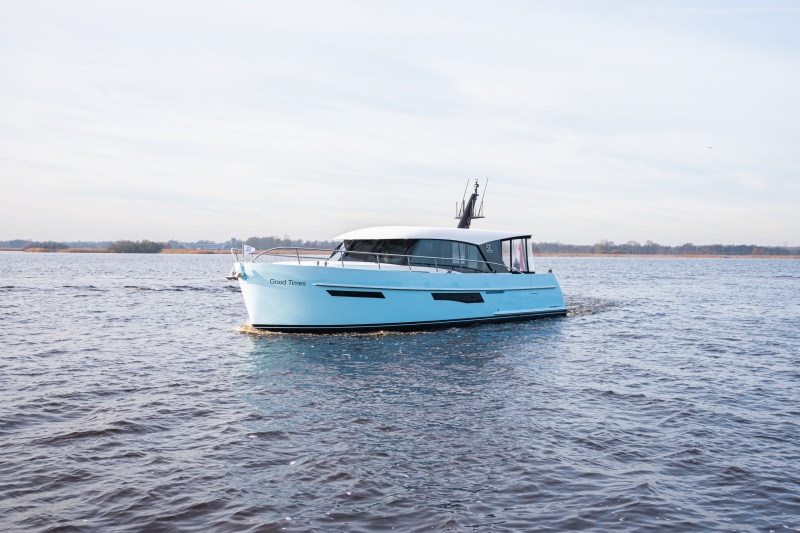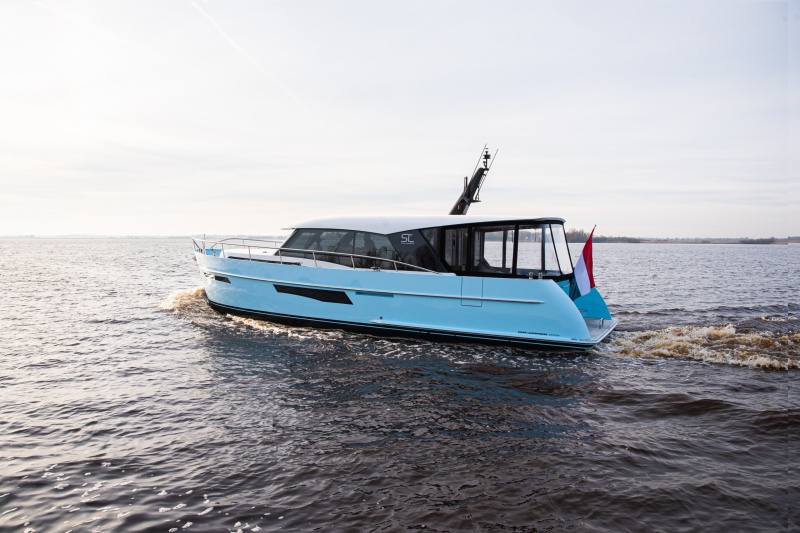 With pain in our hearts
With pain in their hearts, moving also meant bidding farewell to their Discovery 46 OC Longroof. 'From the launch in 2021, we found a berth for "Good Times" in Bruinisse. But to keep travelling to Zeeland from abroad... Given Marc's schedule, there won't be much time for that either. It became a battle of wits and feelings, with our heads beating our hearts. "Good Times" deserves owners with the time to make dream trips.'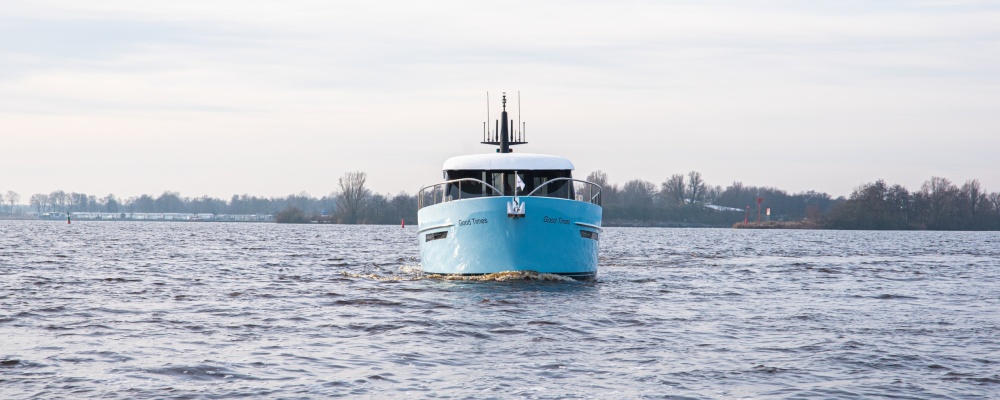 Finding new owners
The call to Bastiaan and Louis, asking if Super Lauwersmeer would lead the sale, fell hard on Marc and Iny. 'The realisation of "Good Times" took two years – a period in the middle of COVID when we had very intensive contact with each other and worked together. Super Lauwersmeer made every effort to meet our wishes. To then explain why you want to sell after only two years of sailing... Bastiaan and Louis understood our explanation and are now looking for new owners.'
Space, luxury and comfort
A couple looking to discover Europe in ample space, luxury and comfort on the water; that's the ideal buyer of "Good Times". 'More than a decade of thinking went into our Discovery 46 OC Longroof. During that time, we rented yachts traversing Friesland for long weekends and holidays. Each time we came a little closer to the perfect yacht for two people who occasionally wanted to take a befriended couple on a trip. We compiled all the do's and dont's.'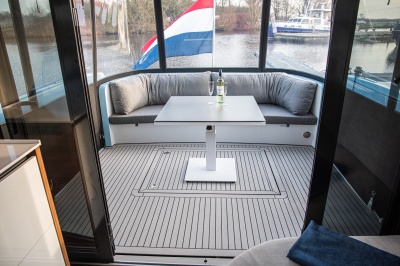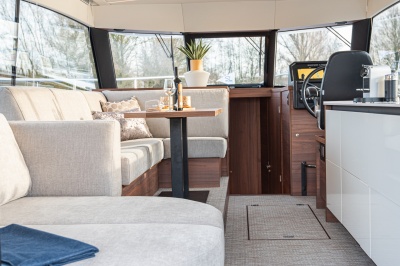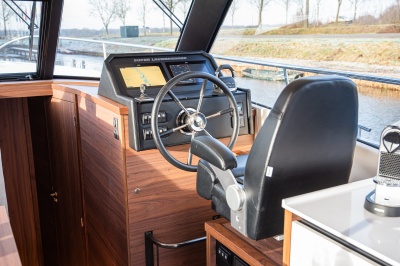 Ideal image achieved
With the complete wish list at hand, Marc and Iny visited expositions and shipyards. 'We were looking for a yacht model that already came close to our ideal image in the foundation, which we could develop entirely to meet the requirements of our ultimate yacht. We took all the time we needed for that too. As a child, Marc saw his father independently build a Valk Kruiser to his liking. Taking his time and being patient made that challenge a success. Following that approach, we also wanted to realise our dream.'
True craftsmanship
A visit to Boot Düsseldorf in January 2019 proved to be the crucial step. 'There, we stepped into the Super Lauwersmeer booth and discovered the existence of the Discovery 46 OC—everything on one level, lots of light and beautiful living spaces. We looked at each other, and both knew enough! The conversation that followed with Bastiaan and Louis reinforced our feeling. They really listened to what we wanted. We soon realised that "can't be done" did not exist for them. A visit to the shipyard in Noardburgum convinced us definitively. We saw true craftsmanship!'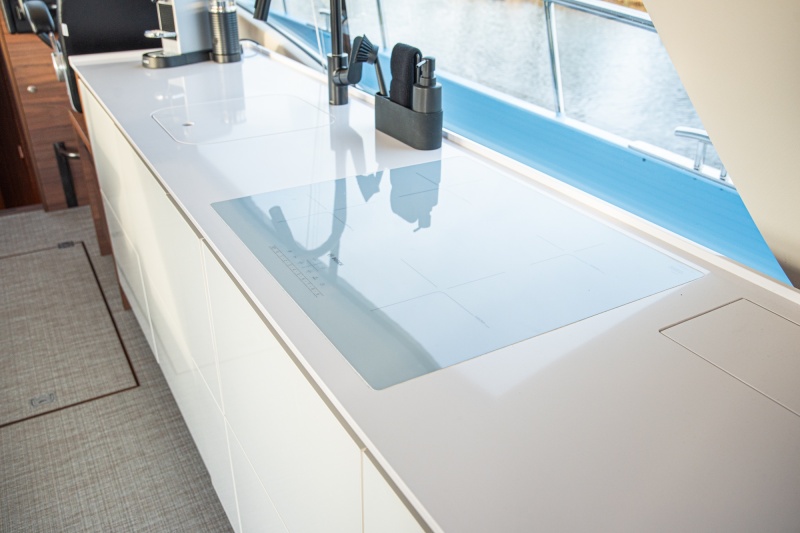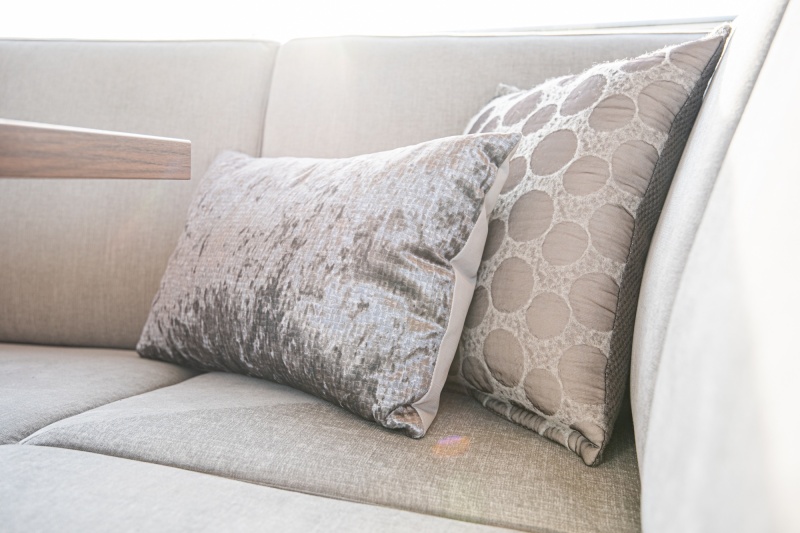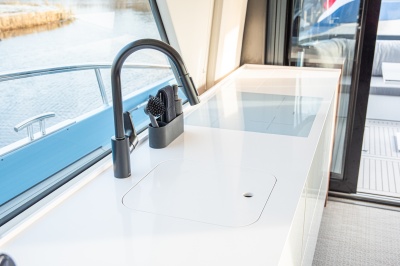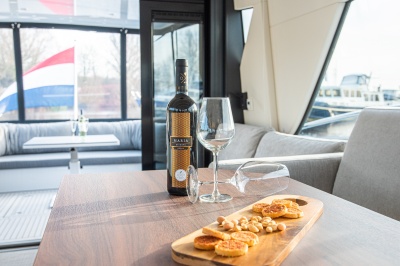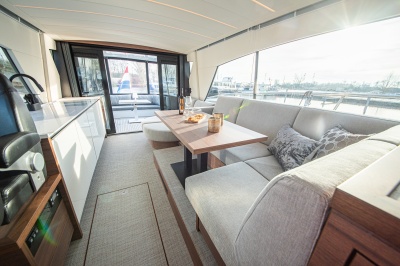 Longroof exclusive
In detail, they discussed their wishes with Super Lauwersmeer. 'We are, as they call it in Belgium, not "zonnekloppers", sunbathers. And we wanted to be able to sail every season. That's why we came up with the idea of an extended roof over the open cockpit. For shade in hot weather and to easily cover the cockpit with a tent in less beautiful weather. Super Lauwersmeer then came up with an exclusive: a longroof. Under any weather conditions, this allows us to combine the outside with the inside and create a large living space.'
Customisation down to the last detail
It is just one example of customisation, but "Good Times" is brimming with it. 'Marc's first car was a blue Volkswagen Beetle. In terms of cars, I love Mini Coopers. My first one had black uprights and a white roof. Super Lauwersmeer applied the colour scheme of both cars to our yacht. This makes it look like the roof is optically floating.' Their wishes for a sleek kitchen on the starboard side, a lovely comfy sofa in the cockpit and two loungers in the saloon were also fulfilled.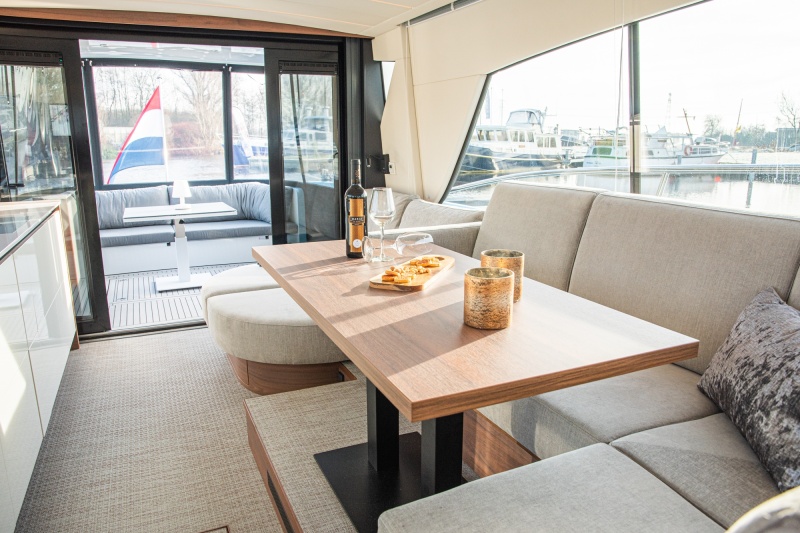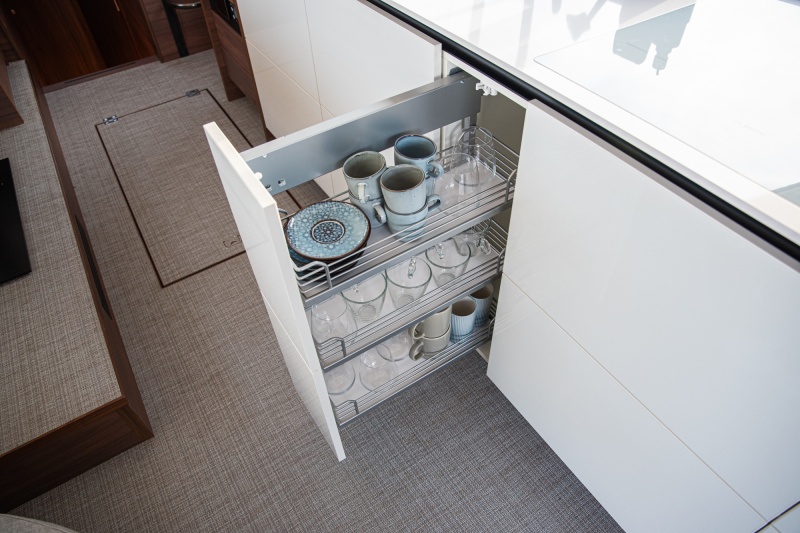 Window Innovation
In addition to the longroof, Marc and Iny's ideas led to another first for the Discovery 46 OC. 'Until then, this model was built with a window to be opened on the side. We found it more aesthetically pleasing to place such a window at the front. Super Lauwersmeer made this technically possible. At the push of a button, the window opens. Both this innovation and the longroof option are now included in the Super Lauwersmeer's range.'
Would you like to know more?
Interested in or want to know more about this as-new Discovery 46 OC Longroof "Good Times"? Get in touch with our shipyard.